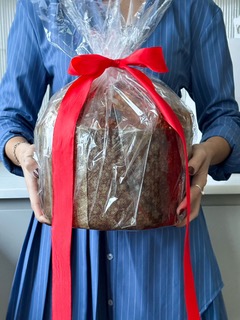 If you're expecting a crowd this festive season, then Two Magpies Bakery has created the largest panettone in the region, pitched as the perfect sweet treat to feed at least 24 hungry mouths this Christmas.
A traditional Italian dessert, The Dark Chocolate & Fig Panettone, weighs a whopping 2kg, and has been created as the perfect show stopper.
Using carefully sourced ingredients and crafted by hand, this larger than life festive cake is ideal for enjoying over the festive season and even comes with a recipe card for using up the leftovers to make a delicious panettone bread and butter pudding to enjoy on Boxing Day too.
Two Magpies Bakery Group, which runs nine bakery cafes across Suffolk and Norfolk, has created this enormous panettone, which will be available to buy from its website for delivery nationwide.
"The creation of this huge panettone was completely by accident due to a mix up with quantities, but it looked so amazing (and tasted fabulous) that we've decided to roll it out as a Christmas special," explains operations director, Yasmin Wyatt.
"This new Panettone uses a huge amount of ingredients including 200 grams figs, 200 grams chocolate and 100 grams Pedro Ximenez sherry. We'll only be making a small number of these huge cakes so they are really exclusive. We don't believe anyone in the region and possibly any UK baker, is making a panettone as large as this one!" adds Yasmin.
Two Magpies Bakery's 2kg panettone is available to preorder from www.twomagpiesbakery.co.uk