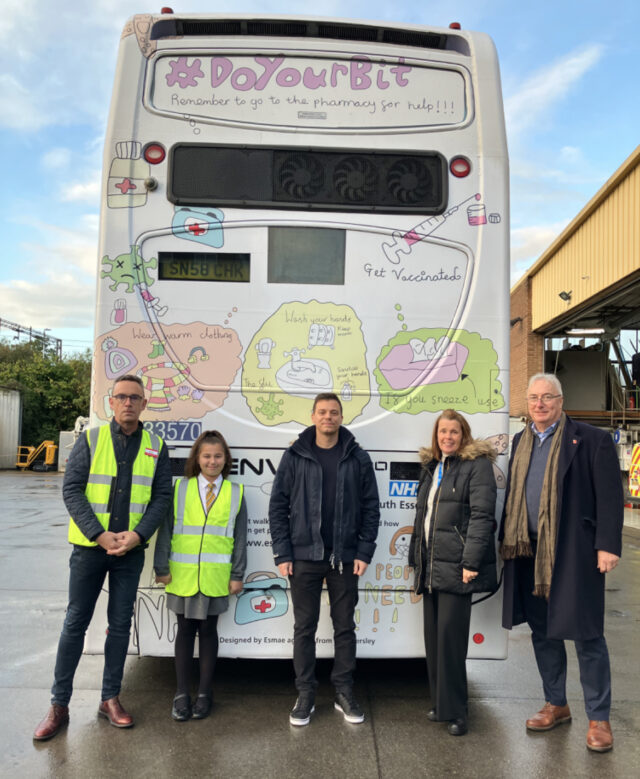 Local schoolchild helps NHS drive important winter health messages to Essex resident
The winner of a local NHS poster competition, Esmae Emin-Wyatt, age 10, from Thundersley Primary School in Benfleet has helped launch a new communications campaign to drive good health in Essex.
Thanks to the help of a local bus company, Esmae's colourful poster will go our tour across Essex helping to spread important advice to keep people well during the winter months.
It comes after school children were invited to have fun, get creative and design a poster to explain how people can do their bit this winter to look after themselves and others by getting a flu or COVID-19 vaccine, washing their hands or checking in on their neighbours regularly.
Dr Sarah Zaidi, clinical director for South East Essex Alliance for NHS Mid and South Essex said:
"We are so grateful to Esmae and all those that entered the competition for helping us get these important reminders out into the community. As demand for NHS services tends to increase significantly with the onset of cold weather and flu-it's important that people understand there are lots of things they can do to help keep themselves well. It really is fantastic to see Esmae's amazing poster travelling through Essex on the back of a bus- helping to get these really helpful messages out to all."
Cllr James Moyies, the cabinet member responsible for public health at Southend-on-Sea City Council, said:
"It was a pleasure to meet Esmae and see her amazing artwork brought to life on the bus. I think the fact that young people engaged with this campaign shows how important it is to them that we do our bit, protect ourselves, and look after one another"
For more information about the poster competition and the #DoYourBitEssex campaign, please visit the www.essexdoyourbit.nhs.uk