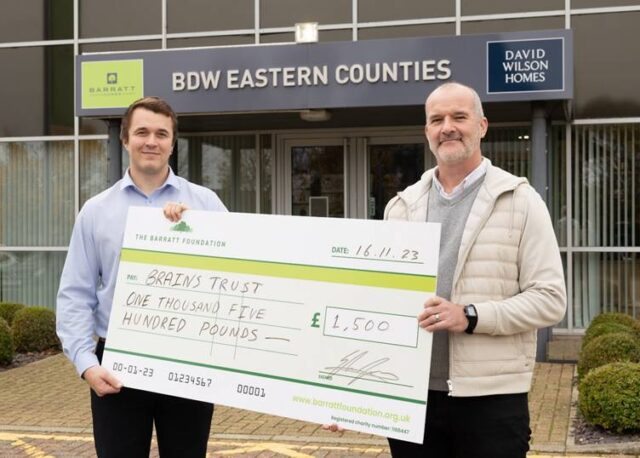 Chelmsford-based Barratt and David Wilson Homes has donated £1,500 to Brainstrust, a charity that pioneered the support for the brain tumour community.
The charity, which runs the North and Mid Essex Brain Tumour Support Group in Chelmsford, received the contribution from the housebuilder's Community Fund scheme and will go towards the support of its beneficiaries.
Dr Helen Bulbeck, Director of Services and Policy at Brainstrust, said: "We were incredibly touched and excited when we heard that Barratt and David Wilson Homes was able to support the vital work of Brainstrust so generously.
"The homebuilder's Community Fund scheme is a brilliant way of allowing employees to nominate causes that are local to them and close to their hearts, which will make a real difference to people's lives.
"We would like to say a really big thank you, as the support means we can allow even more people to live their best possible life."
The donation was made as part of the homebuilder's Barratt Foundation, which is designed to support national and local charities and leave a legacy in the communities where Barratt and David Wilson Homes is building new homes.
Demand has increased in recent times, and Brainstrust now supports over 3,000 people with over 150 new patients and caregivers making contact each month.
The developer's funding will go towards broadening and strengthening the charity's support service.
The £1,500 contribution will help the charity to give one-to-one support through its 24/7 telephone helpline, online chat and email. Brainstrust can also deliver its unique, high impact coaching service, which helps people to be more actively involved in decisions about their care and treatment.
The charity is also working to continue its efforts to build supportive and resilient local communities through online and regional events, peer support, and its Facebook support group.
The donation will also help Brainstrust to provide reliable information through its extensive range of information resources, websites, specialist webinars, and brain box support toolkits. Each brain box includes tools and information, to help people understand what is happening and make decisions that are right for them.
Tom Wright, Managing Director at Barratt and David Wilson Homes Eastern Counties, said: "Brainstrust is leading the way in support for people who have been affected by brain tumours, and it's a privilege to be able to contribute to its services with our Community Fund donation.
"The charity carries out fantastic work not only in Chelmsford, but across the UK too, and we hope the contribution will help its beneficiaries through the valuable support network available to them."