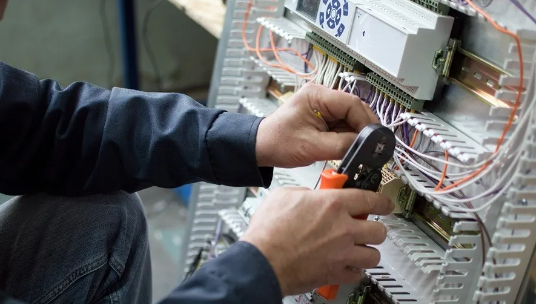 An Electrical Safety Certificate (EICR) is a document issued by an electrician after conducting a safety inspection and test on your property's electrics. This important aspect of UK legislation for private landlords has now become mandatory.
An EICR can identify hidden electrical problems that could put residents at risk. They'll also let you know if any improvements need to be made to make the installation safer for everyone.
The government reports that in the UK, 20,000 electrical fires occur annually with around four people being injured or killed due to faulty wiring. To prevent these tragedies from occurring, property owners should get regular inspections of their property's electrical systems and installations and guarantee they comply with current guidelines.
Landlords must obtain Electrical – EICR Certificates at least every five years. As of 1 April 2021, however, this law has changed to require all private landlords to have a certificate on file at all times.
These checks should be conducted by a certified electrician, or engineer, to guarantee the electrical systems in a home are up-to-date and working correctly. They can identify any issues with the system and offer advice on how best to resolve them.
They will issue an EICR (Electrical Installation Certificate Report), indicating whether the inspection was 'satisfactory' or 'unsatisfactory. If it is determined that any faulty circuits must be repaired and retested within 28 days.
Landlords should retain a copy of this for their own records, as well as providing copies to tenants, local authorities or any third parties who may request them. Doing so can save them time and money in case of fire or accident.
Why do landlords have to get one done in UK?
Due to the UK's housing shortage, more and more people are renting. Not only does this provide them with extra income, but a well-run property may prove an advantageous investment in the long term if it's rented out to a reliable tenant.
Landlords must ensure their properties remain in top condition to keep occupants content and secure. One way they can do this is by having an electrical safety certificate (ESC) completed on any and all electrical equipment within a property they rent out.
Fixing this problem doesn't have to be a tedious task – an electrician or qualified plumber can easily do it in no time. But remember, never underestimate the significance of having an effective Electrical Safety Certificate; neglecting it could prove costly and time-consuming in the end. For best results, find an experienced electrician who's willing to offer discounts if they believe you deserve one!
What will an Electrical Safety Certificate help to achieve?
Landlords in the UK are well aware of the consequences when their properties fall into disrepair. Not only can they incur financial losses, but they may also have to pay out compensation to tenants for damages caused by this negligence. The law in this country works to curb this kind of behaviour by requiring property owners to meet certain standards – for electrics specifically this means obtaining an Electrical Safety Certificate.
Aside from saving you money in compensation payments, an Electrical Safety Certificate helps ensure your tenants' safety when living in your property. It confirms that all electrical installations are up to date and safe for use.
Your electrician will inspect every electrical installation in your home and create a comprehensive report. This includes everything from wiring to light fittings and switches. Your electrician also takes into account the age and condition of the electrics to determine if they need replacing or improving. If repairs are necessary, you'll be provided with an estimate for cost, as well as a new 'Satisfactory' certificate.
The report will then detail any potential faults identified by the electrician during their inspection and test. These could include things like overloaded fuse boxes, plug sockets that trip frequently, lights with defective switches or no working bulbs – all of which would be classified as either 'Code One' (C1) or 'Code Two' (C2) issues which require rectifying within 28 days.
Code Three (C3) faults are less hazardous than Code Twos, but still present the potential for issues. Therefore, these should be rectified promptly to protect your tenants from injury.
To protect yourself, it is best to book an EICR as soon as possible. This will give you plenty of time for any necessary remedial work before your tenants move in, plus, it can save you money by planning ahead.
How do I get an Electrical Safety Certificate?
An Electrical Safety Certificate is a document that confirms your home or business is free from electrical hazards. It's typically issued when selling or renting property and can be an invaluable asset in convincing potential buyers that the electrical system in place is functioning optimally.
To receive an Electrical Safety Certificate, you must first have a certified electrician complete an inspection and testing. They will then issue you with an EICR (Electrical Installation Condition Report), which outlines any damage, defects or hazardous conditions found in your property.
It is essential to follow the EICR's instruction that, if remedial work is required, this must be completed within 28 days of receiving the notification. Failure to do so could result in legal fines of up to £30,000 for not having an up-to-date electrical certificate and failing to follow any recommendations made.
Obtaining an Electrical Safety Certificate is a relatively straightforward process. An electrical engineer will inspect and test all circuits and appliances in your property to ensure all wires are in working order, with no damaged fittings or other potential hazards that could pose risks to electrical safety.
If you are a Landlord in London, get an EICR London, booked through any registered electrical safety certificate provider company.
Landlords must perform an electrical safety check prior to each tenant moving in and after every major shift of tenants. Doing this not only protects your tenants but also ensures compliance with government regulations.
Landlords should never enter their tenants' property for an electrical safety check without the owner's consent and give them 24 hours' notice before any visits take place. Doing this will guarantee the safety of everyone living there as well as shield the owners' assets from costly repairs.
In the UK, landlords are not required to obtain an electrical safety certificate before renting out their properties. Nonetheless, having such a document can make the purchasing process simpler for prospective tenants and provide them with peace of mind that their home or business is secure. Furthermore, it could increase your property's economic value by demonstrating to buyers that there are no electrical faults present and everything works properly.