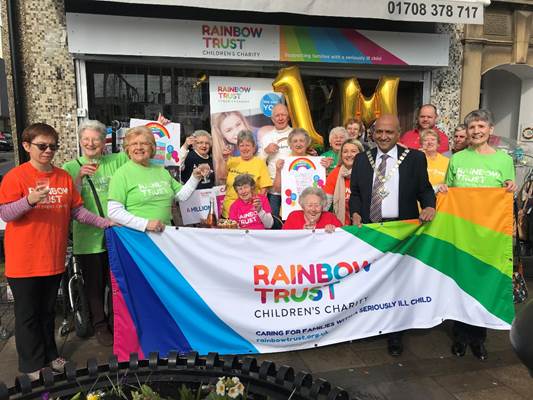 A celebration marking the amazing achievement of The Harold Wood Volunteer Group, who have reached their £1 million target for Rainbow Trust Children's Charity, which supports families caring for a seriously ill child, was a great success.
The volunteers, along with the Deputy Mayor of Havering, Cllr Dilip Patel, and Rainbow Trust staff, celebrated completing their One Million Campaign with prosecco and cake at the charity's Harold Wood shop in Station Road on Wednesday (7 March).
The dedicated group reached their £1m target one month ahead of schedule and in their 25th Anniversary year after launching their campaign last September to increase the £950,000 they had already raised for Rainbow Trust since the shop opened 1993.
Rainbow Trust enables families who have a child with a life threatening illness to make the most of their time together. Through its nine care teams across England, including Essex, Rainbow Trust pairs each family with an expert Family Support Worker who helps them at home, in hospital and in the community, for as long as it is needed.
Rainbow Trust Patron and Harold Wood shop founder and manager Pauline Obee OBE said the event was a great success.
"It was a very social, happy occasion in which the shop staff delighted in being with one another," Pauline said.
"It was very pleasant to be able to meet up and celebrate together with a drink and a slice of cake and celebrate the fact that we had achieved such a fantastic amount of money, £1million, and that we have been going for 25 years which is an amazing amount of time to have been working together."