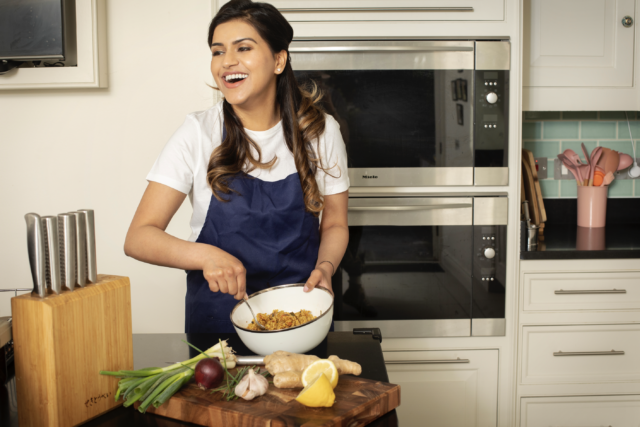 The founder and CEO of FoodHak, the revolutionary new food subscription delivery start-up where the emphasis is on healthy, science-based vegan meals, Sakshi Chhabra Mittal was born in Delhi, the oldest child of a self-made businessman who founded a textiles company. Educated at the British School New Delhi, where she first met future husband, Shravin Mittal, Sakshi continued her education at Birmingham University. Studying biotechnology, she quickly demonstrated the work ethic inherited from her father by working in the campus Spar.
Whilst at university, she decided to call the head of regulatory affairs at Pfizer and, after a bit of persuasion, convinced him to set up a graduate intern scheme, with her as the first appointment.
On completion of her internship, Sakshi continued to work for Pfizer, moving from clinical trials and regulatory affairs to manufacturing. Much of what she learnt during that time, particularly in relation to the potential minefield that is food packaging, would stand her in good stead when she came to launch FoodHak. After four years she left Pfizer and moved briefly back to Delhi. Working with her father she spotted a gap in the market, supplying good quality, well priced towels to the emerging middle classes. The business runs profitably to this day.
Deciding to further her education, Sakshi moved to the US in 2012 to take her master's in business, finance and strategic management at the prestigious Wharton School of the University of Pennsylvania.
After finishing her degree, Saskhi joined Hoxton VC where she invested in the likes of cyber-defence specialists Darktrace and Babylon, the revolutionary artificial intelligence and digital health company. She then joined the latter for a short stint in an operating capacity, working closely with founder Ali Parsa. In March 2016 Sakshi was poached by the Japanese multinational SoftBank, first in Silicon Valley and then London, to help manage their early-stage funds in Asia and focus on healthcare growth equity investments. For nearly six years she worked across a range of sectors, but in particular healthcare and the life sciences, fascinated by the huge opportunities presented through the intersection of computation and biology and the role that the genomic revolution can play in addressing some of the largest issues facing society. Most of her investments are now public – she led the $1.1 billion equity investment into Roivant Sciences and subsequently served on its board for four years – and have paved the way for new science/innovation in their respective fields.
The inspiration for FoodHak came when Sakshi was pregnant with her first child and developed obstetric cholestastis (OC), a liver condition which can increase the risk of a premature or stillbirth.
In an attempt to control her symptoms, which included unbearably itchy skin, she put herself on a vegan, gluten-free, non-dairy diet, with a focus on foods and herbs with anti-inflammatory properties. She was astounded by the results; the OC was controlled and her son was safely delivered at 37 weeks. Worried about the OC returning should she fall pregnant again, Saskhi began to look carefully at her diet. One of the first decision she made was to give up meat. At work, she became increasingly frustrated by the traditional lunchtime offering. So much so that she began to think about creating her own range of plant-based, sugar- free, anti-inflammatory dishes, with a low glycemic index. Over the next few months Sakshi started working with a number of doctors who were also intrigued by so- called "lifestyle medicine." With her research leading her increasingly in the direction of recipes rooted in traditional, ayurvedic Indian medicine, she found a chef trained in ayurvedic principles and rented a kitchen near her West End offices.
Sakshi began to distribute her meals via Deliveroo and her customer base was steadily growing when Covid hit. The lockdown gave Sakshi the opportunity to turn what had originally been a passion project into a fully-fledged business. She worked with research scientists to investigate the links between diet and disease. Armed with this data and an array of antioxidant ingredients, Sakshi and her chefs developed an array of low-carb, low-fat, low-sugar Indian, Chinese and Mediterranean dishes.
In late 2021, Sakshi decided to take the plunge and hand in her notice. Within weeks FoodHak was launched in London and the Home Counties. By now Sakshi's fledgling brand was starting to make waves not only among subscribers – whose number was growing by 25% every week – but further afield. The benefits and potential of her creation, as well as her proven entrepreneurial skills and formidable work ethic – she still puts in 13-hour days building her business – attracted the attention of investors. So much so, that within a matter of weeks Sakshi had already completed on a $5 million first investment round (such has been the interest that Sakshi has to date raised $5.5 million), landing Holland & Barrett and Brent Huberman's vehicle firstminute Capital as hero investors alongside angels including Mervyn Davies, Jim Mellon, Jeanette Furstenburg, Nikesh Arora and Jeremy Coller. The uniqueness of her brand also attracted other investors, even a doctor who discovered Sakshi on LinkedIn and was excited about FoodHak's potential in regard to her own patients. As FoodHak expands, Sakshi remains totally hands-on, although she is now looking to grow her senior management team. She is proud that her workforce is predominately female and from an ethnic minority background.
Brand developments are continuing apace. New dishes are being added at the rate of ten a month and plans are underway to create bespoke food boxes for specific conditions such as diabetes and heart disease. Sakshi is also looking at creating a line specifically for children. Whilst growing her subscriber base and maintaining her impressive retention figures are key, Sakshi is currently in conversation with several retailers to scale the FoodHak offering.