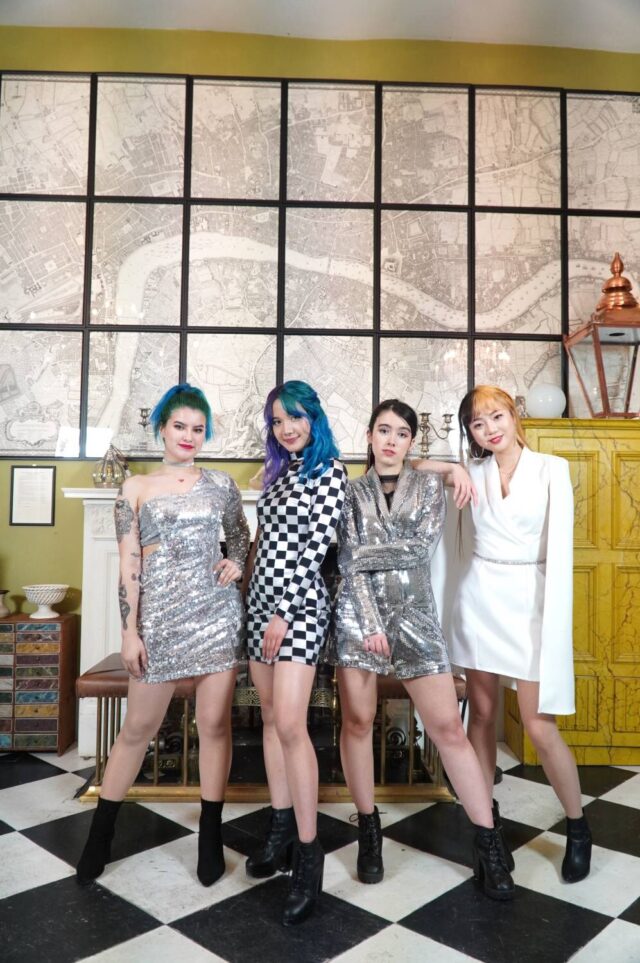 The worlds first K-Pop group from the UK, KAACHI have just released their debut single 'Your Turn', becoming the first European K-Pop girlgroup to ever debut. The 4 member girl group, made up of 3 different nationalities- Korean, Spanish and British, have broken away from the traditional K-Pop model by creating a ground-breaking concept of Kpop being universal and open to artists from all over the world.
Coco (Lead Dancer), Nicole (Lead Vocals, Group Leader), Dani (Rapper) and Chunseo (Lead Dancer) are set to take the world by storm with their new single and music video, which fuses European pop, K-pop and hip-hop to create a completley new spin on the K-Pop genre- specifically for the European and American market.
The groups name 'KAACHI', originates from the Korean word for 'Togetherness, Value and Unity' and symbolises the group being brought together for a common purpose of creating 'K-Pop Music' while fusing different countries and cultures into one unique group. Their debut single 'Your Turn' follows the story of a girl who struggles with her ex-boyfriend with the lyrics and music video following the girls emotional struggle with love and breakups, something which many people can empathize and relate to. The message behind the song is both uplifting and inspirational, showing the girl fighting through these emotions to come out on top of the world with confidence and feeling empowered.
The Group is directed by Korean media exceutive and CEO of FrontRow Records, Monica Sound with KAACHI also being signed to her British Kpop label. KAACHI features a superstar line up of producers who have worked with some of the biggest names in pop music and K-Pop with producers Daniel Leary and Jungleboi, who have made hit songs for British boy band One Direction and Kpop group SHINee. Their music is mixed by super producer Jamie Snell, who mixed the Dua Lipa and Black Pink Collaboration. KAACHI's members have also had huge input in the musical process and creative direction of the group, with each member offering their special talents and ideas to make the music personal to them.
KAACHI's director and producer Monica Sound said of her group "I am so happy to showcase KAACHI to help promote the KPOP genre to new audiences while adding a British twist to the genre. Through KAACHI, I hope they can create a wave of change in the perception that KPOP is no longer a Korean music genre, but a global one. In addition, according to the success of the KPOP group, which already has members of various nationalities and the rapidly growing audience of KPOP, which is becoming more and more globalized, my record label and I hope that we can be at the forefront of finding and developing artistic talent in Europe to help bring Kpop to new audiences. "
The groups producer Daniel Leary said, "I am delighted that the songs I wrote with KPOP in mind will be heard all over the world with and will showcase the artistic and creative talents of the Kaachi members. KPOP project in Europe. "
KAACHI's leader Nicole said, "I have always loved Korean culture and listened to KPOP and danced from a young age and now I am very happy to participate as a creator of a new type of KPOP. I hope that many other young people accross Europe will be inspired to create KPOP music and follow their dreams ".
The Group were discovered and put together after being scouted at the UK KPOP Dance Competition held in London, England in October last year and have received training at 1 Million Dance Studio, Koreas most famous dance studio. They are also set to appear in their very own UK TV Series on Channel 4, airing later this year, following their journey from ordinary girls with big dreams and aspirations to their journey of becoming K-Pop stars.
'Your Turn', the debut single from KAACHI is available now across all music platforms.