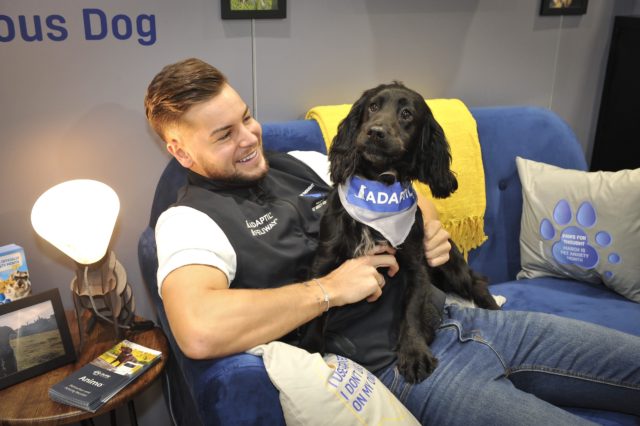 TV PERSONALITY Chris Hughes is lending his support to Ceva Animal Health to launch Pet Anxiety Month which aims to educate owners that their pet's disruptive behaviour can be as a result of anxiety or stress.
It comes as new research commissioned by Ceva Animal Health shows that 77% of owners in the UK say they regularly change their routines to accommodate their anxious pets with 48% saying they believe difficult behaviour is in reaction to anxiety and fear. Almost half don't know where to turn resorting to Google for help in combating their pet's behaviour.
Chris was speaking at Cruft's to launch Feliway and Adaptil's PawsforThought campaign for Pet Anxiety Month, as over 80% of dogs suffer with some form of anxiety in the UK. Chris has admitted his dog, Busta, has been suffering from anxiety since the burglary. Busta is being treated by pheromone releasing product, Adaptil, to help calm his nerves.
Chris says, 'Busta has been so nervous and shaking a lot, but Adaptil has helped so much. He's now finally back to his old self and is a lot more confident.'
He said: 'I want to help spread the word because it's important that people know that dogs go through mental health issues just like humans do. There is a stigma about speaking out, but dogs obviously can't so it's important their owners recognise that dogs do have these issues too.'
Chris is hoping to raise awareness so pet owners can spot the vital signs and help their dogs feel calmer. To find out if your dog could be suffering and how pheromones like Adaptil can help, visit www.petanxiety.co.uk