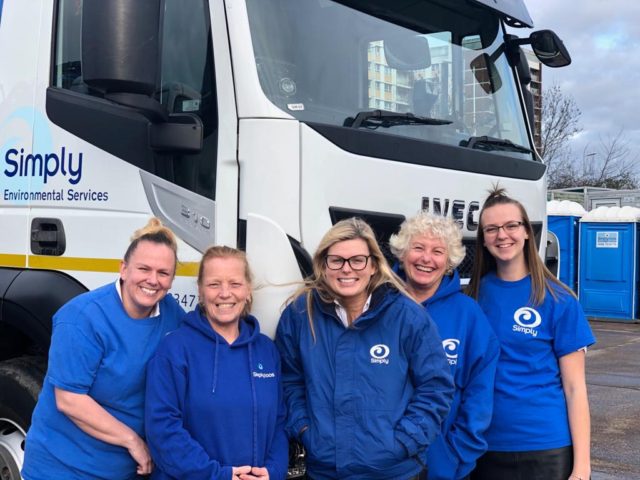 To celebrate International Women's Day 2019, the team at Simply Hire is encouraging women across the UK to build a career in the waste and construction industries. Taking place on Friday 8 March, the theme for International Women's Day 2019 is Balance for Better – a call-to-action for driving gender balance across the world. Simply Hire is on a mission to drive this gender balance across its industries too.
Both the waste management industry and the construction industry are male dominated. The latest research from the ONS highlighted that of the 2.3 million people working in the construction industry in 2016 only 13% of the workforce (296,000 individuals) were women.
Simply Hire is run by Managing Director, Ruth Napp. As a woman working in construction and waste, Ruth is a passionate advocate for supporting other women in the industry.
Ruth's career within the industry began when she was only 17. At this time, Ruth joined Advante, who was a supplier for Simply Hire. It was whilst working here that Ruth met the previous Managing Director of Simply Hire who scouted her from Damco, P&O Felixstowe Services and offered Ruth a position within the company at the age of 21.
Ruth was employed to bring a modern and fresh approach to the business and there is no doubt that this is what she has done. The business has grown from seven employees to 25, has achieved accreditations including FORS Bronze, IOS 9001 and ISO 14001. Ruth has also worked hard to secure repeat business with prestigious clients including Royal Windsor Racecourse, London Fashion Week, The London Marathon, Kensington Palace, London City Airport, Canary Wharf Estates and CRO Ports.
Today, Simply Hire employs four other women to work alongside Ruth in various roles including Hire Desk Controller and Operations Support. As the business continues to grow in 2019, Simply Hire hopes to encourage even more women to join the team and play an integral part in the success of the business.
The gender diversity of the team is a key factor in the business' success and Ruth is a firm believer in gender equality for every team member.
Ruth Napp comments: "As a woman within the industry, I am extremely proud of the career I have built for myself. I am equally proud of the careers my female employees are building for themselves too. It amazes me that even in 2019 we can still face prejudice for being a woman in the industry. We are massively outnumbered which for some people, can be daunting. For me and my team, we see this as an opportunity and we are determined to attract more women to work within the industry and to help them succeed."