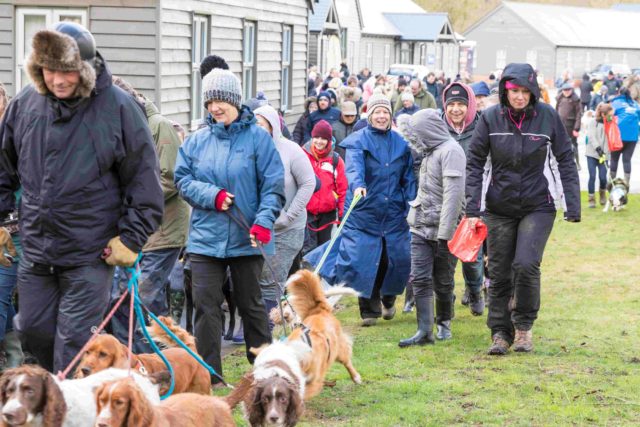 The Heli Hounds Dog Walk organised by Essex & Herts Air Ambulance (EHAAT) on Sunday 10th March went ahead successfully, even though weather conditions meant the dog show scheduled to take place afterwards had to be cancelled as a precaution.
Over a hundred dogs and their owners tackled a muddy three mile route through the Marks Hall Estate, starting and finishing at the EHAAT Charity HQ on Earls Colne Business Park.
Jen Wall, Volunteer & Events Lead at the Charity said: "We are really grateful to all the dogs and their owners who came out today to support EHAAT despite the blustery conditions. So far the event has raised over £2,600. Once we have received everyone's sponsorship money this figure could double, which would be amazing.
"Because of the forecast of strong winds we took the precaution of cancelling the planned dog show, but everyone has been very understanding. We've had some really positive feedback about the walk, which was enjoyed by all who took part.
"Anyone who would like to receive a refund for the dog show should contact communications@ehaat.org or call the Events Team on 0345 2417 690 during office hours with their order name and number of tickets purchased so that we can arrange this."
Dog owners who would like to support EHAAT can sign up for the Charity's next Heli Hounds event at Hatfield House in Hertfordshire on Sunday 9th June. Details will be available soon on ehaat.org.