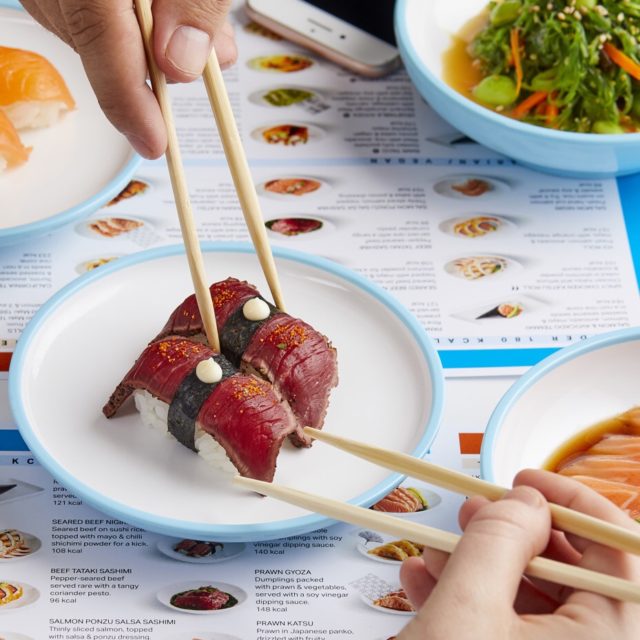 To help you ring in 2019 with a renewed sense of vim and vigour, YO! has launched the "Make It!" menu, offering 40 dishes at £3.00 each this January. No matter your New Year's resolution, YO! has got a dish for it!
Those feeling the pinch after an extravagant Christmas can dine like a king with a huge spread of dishes for as little as £3.00 each. Tuck into the delicious Dragon Roll topped with fresh salmon and the tantalising Beef Tataki Sashimi with a tangy coriander pesto, usually priced at £5.00.
If a month of festivities and lashings of turkey has you craving a detox, head to YO! for an array of plates under 180 kcal. Forget the festive wine pairings, January is all about Eternitea's Collagen Yuzu Fruit and Morgina Tea, loaded with antioxidants, minerals and protein to give your skin a healthy new year beauty boost.
There's no need to avoid dining out when trying to get back on track as the menu fits with the WeightWatchers Smartpoints plan. Balanced doesn't mean boring at YO! with endless choices including the sumptuous Salmon Sashimi and tasty Beef Tataki Sashimi served with a tangy coriander pesto.
And if you want to give the meat a miss this month, get your plant-based paws on some of YO!'s vegan delights. With 14 plates to choose from, all bursting with all the vitamins and nutrients you lost over the festive period, YO! provides an array of vegan dishes to choose from like the Inari Taco, golden tofu pockets brimming with rice, avocado, salsa and vegan sriracha mayo or the crispy Spicy Pepper Cauliflower topped with chilli and spring onions – Yum!
Anyone taking on the "New Year, New Me" mantra and on a quest to add some adventure to their tastebuds can check out the menu's 'Try Something New' section. Filled with flavoursome dishes sure to impress the foodies in your life, such as freakishly good Furikake Fries or a freshly prepared California Temaki roll.
Take a trip to Japan (without the 12-hour flight!), and tuck into Osaka's No. 1 street food. Takoyaki Octopus Doughballs are lightly battered doughballs filled with succulent octopus and topped with mayo and bonito flakes – delicious!
With all 40 plates priced at just £3.00 each during the penny-pinching month of January, treat YO!self to a healthy and adventurous dining experience at YO!. The 'Make It!' menu will be available Monday to Friday from 7th – 29th January 2019 at selected sites throughout the UK.