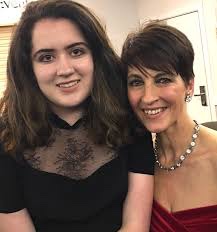 Leading UK Autism Charity Anna Kennedy Online have today announced their new young Ambassador Siena Castellon.
Siena Castellon is a 16 year old neurodiversity advocate and anti-bullying campaigner. She is autistic, dyslexic and dyspraxic. She also has ADHD. Siena is passionate about changing negative perceptions and stereotypes about autistic people and people with learning differences.
When Siena was 13 year old, she created a website – www.QLMentoring.com – to mentor and support autistic students and students with learning differences. She created the website, because she found that all the online resources were aimed at parents.
On her website, Siena provides practical information and advice on how to overcome some of the academic and social challenges often faced by students with special educational needs.
Siena recently launched a school campaign – Neurodiversity Celebration Week – which aims to encourage schools to change perceptions about students with special educational needs by celebrating the strengths of their neurodiverse students and highlighting the advantages that come from interacting and perceiving the world differently.
Her campaign is supported by 16 major charities and organisations, including Anna Kennedy Online, the ADHD Foundation, the British Dyslexia Foundation, the Dyspraxia Foundation and the PDA Society. There are currently 40 schools participating, which amounts to over 35,000 students across the United Kingdom. Siena is currently writing a survival guide for autistic teen girls, which will be published in 2019 by Jessica Kingsley Publishing.
Siena has won numerous awards for her neurodiversity advocacy and website, including the 2018 BBC Radio 1 Teen Hero Award and the Diana Award. In 2018, she was also bestowed with a British Citizen Youth Award, received a Points of Light Award from Prime Minister Theresa May and met the Duke and Duchess of Cambridge at a private reception in their home at Kensington Palace.
Siena is a work placement at UCL's Centre for Research in Autism and Education (CRAE). She is currently working on a research study on perceptual capacity and anxiety in autistic individuals. She believes it is important for the autistic community to be involved in autism research so that the research is focused on addressing our needs and used to improve autism support services, rather than on finding a cure.
Siena also works as a peer outreach worker for the Mayor of London, which involves managing youth-focused events and working with organisations and charities to support young people in London on a broad range of issues, including disability services and support. In 2018, Siena served on the Diana Award National Anti-bullying Youth Board, where she represented over 28,000 anti-bullying ambassadors throughout the United Kingdom. She used her time on the board to share her disability-related bullying experiences and raise awareness of disability hate crimes.
Siena is also passionate about maths and physics. Last summer, she studied theoretical physics at Perimeter Institute for Theoretical Physics and had a one-week work physics work placement at Cambridge University's Cavendish Laboratory. Siena frequently gives talks about diversity in STEM, including to a Parliamentary group. Siena attends one of only two specialist maths state sixth forms in the United Kingdom.
Anna Kennedy OBE told us "We are proud that Siena is now going to be part of the AKO Team. I first met Siena at our Nation Autism Hero Awards 2 years ago and was impressed how much she had achieved at the age of 14 .I am looking forward to working with Siena raising further awareness and acceptance of autistic children and adults.Her first role with charity is speaking at The Autism Expo at Brunel University on March 23."