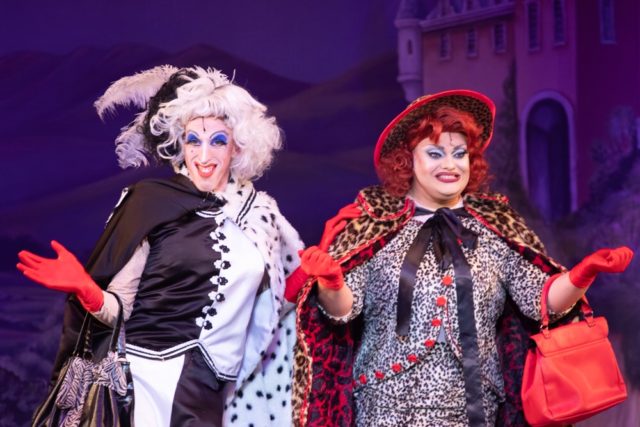 Grab your glass slippers and your best ball gown, thank your fairy godmother, you are having a night on the town! Cinderella, the fairy godmother of all pantomimes, is now up and running at Chelmsford's Civic Theatre until Sunday 6 January 2019. With nearly a sold-out run, you will have to be quick to grab your seats for this magical extravaganza.
The classic fairytale is once again wowing audiences. We find Cinderella has just lost her beloved father and has been put in the care of her relatives. To pay her way, Cinderella is made to live below stairs and do all the cleaning, mending and cooking for her lazy step family! Will Cinderella be rescued by her prince and live happily ever after? Oh yes she will!
Boo the wicked and elaborately dressed Maureen and Chlorine – the Ugly Sisters, laugh out-loud at Buttons the kind-hearted servant, love the Fairy Godmother, swoon over the handsome Prince Charming and cheer on beautiful Cinderella as her dreams come true.
Cinderella is played by new star of the stage, Caitlin Rutter, in her first principle role since graduating from the well-renowned Laine Theatre Arts in Epsom. Caitlin has previously tread the boards at the Civic Theatre as student, when she appeared in Jack and The Beanstalk. Other familiar faces include the comedic Louie Westwood, who plays Ugly Sister Maureen, Richard Foster-King as Ugly Sister Chlorine, and Abigail Carter-Simpson is the Fairy Godmother. There is a special appearance from two Shetland ponies who take Cinderella to the ball in her sparkling coach!
For more information on performance times and to book tickets call the Box Office on 01245 606505 or book online at www.chelmsford.gov.uk/theatres. Tickets are £23.00 (full-price) and £20.00 (concession) with special rates for groups, families and schools. There will be several special performances including signed, captioned and relaxed performances.