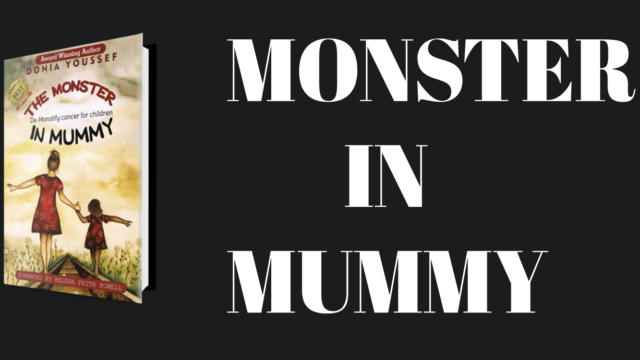 Donia Youssef, who's first book The Monster in Mummy: De-Monstify cancer for children became an instant best-selling book on Amazon, as well as winning the 2018 Authors award, for its heart-felt and sensitive approach to how parents can tell their children about having a cancer diagnosis, will debut her second book in the series: The Monster in Mykie in November, telling a moving story about a young boy with cancer.
Approaching the difficult topic of cancer, has been a personal journey for Ms. Youssef, who in April 2017 received news that she had breast cancer. What followed was a difficult time of treatments, but also of having to tell her two young daughters, ages two and five at the time, the bad news about her own cancer diagnosis.
It was from this event that inspiration was found to write her first book – a helpful aid that is now used by parents to communicate the difficult news. Since the book's publication, Ms. Youssef has become a spokesperson on the topic of how to communicate bad news in the best way possible, and been featured widely in the media, she also now has a film-in-works about her life story. Her efforts also attracted attention from Joanna Lumley, who provides a supportive comment to Ms. Youssef's first book.
In her second book, The Monster In Mykie Ms. Youssef tells the real-life story of 12-year-old Mykie Perkins and his battle to survive cancer. Told using his own words, the story chronicles the events following his diagnostic, whilst on holiday with his family, and all the way through his treatment and eventual remission. Readers will be inspired by the spirit and resilience of this young boy who has already faced more adversities than many of us ever hope to endure.
Ms. Youssef, with The Monster Series, is also supporting an on-going awareness campaign highlighting the experiences, trials and tribulations of cancer patients and survivors. Her mission is to help create awareness, encourage effective communication and offer various coping strategies for family's facing cancer. She is also donating proceeds from book sales to the Royal Marsden Cancer charity along with donations to Cancer Active Charity, the Look Good Feel Good cancer charity, Tailor Made dreams charity, and the Willow foundation charity too.