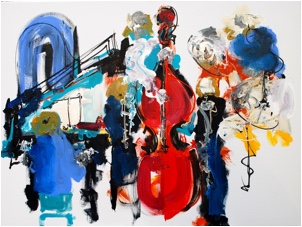 Jazz artist Alex Hitchcock is soon to perform live in Colchester as part of a UK-wide tour.
Alex is making huge waves in the jazz scene and this will be rare chance to see him and his quintet perform live on 6th  May  at  Colchester Arts Centre.
Spring 2018 marks the release of Live At The London And Cambridge Jazz Festivals, the outstanding new body of work from emerging luminaries of instrumental jazz the Alex Hitchcock Quintet. Led by an exciting young tenor saxophonist swiftly gaining a reputation as a skilful and unique player, Hitchcock and his band are five of London's most sought after players, now establishing themselves as leading figures in their own right through gripping collaborative music.
As experienced players in the bands of jazz stars as diverse as Jasper Hoiby, Chris Potter and Elliot Galvin, Hitchcock and his quintet have been secret weaponsidemen to those in the know for some time – the privilege of being the 'go to' musicians for more familiar talent allowing each member of the quintet to hone their skills on the live circuit, simultaneously developing an acute intuition for contemporary improvisation and original, absorbing composition.
2018 is set to be a big year for the Alex Hitchcock Quintet, a band just as comfortable on an intimate club stage as at some of jazz's biggest events. With a full album in the pipeline and likely appearances at a range of summer festivals, the new EP and tour is an opportunity for enthusiasts, experts and discerning music fans to get ahead of the game and get to know one of the best new bands on the circuit today.