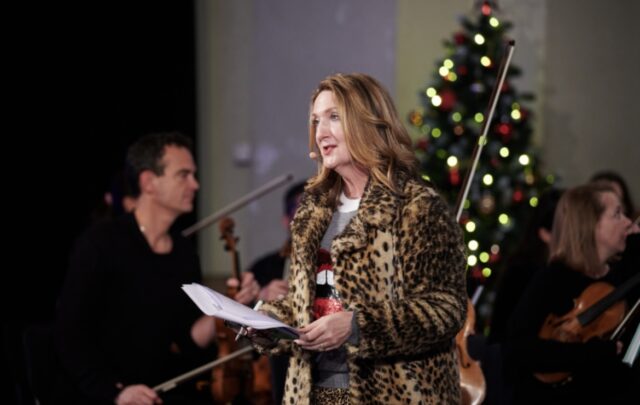 The annual Macmillan Carol Concert is a star-studded Christmas fundraiser featuring a festive collection of celebrity readings, carols and breathtaking musical solos. All ticket sales from this year's event, held on 7th December at St John's Smith Square in Westminster, will go to support people living with cancer just like George and his son Alex.
On Christmas eve 2009, George from Enfield got the news that all parents would dread: his two-year-old son Alex would have to spend Christmas in hospital being treated for acute lymphoblastic leukaemia (cancer of the blood cells).
George told us: "I felt helpless. I watched the medical staff take blood samples and do everything they could to bring Alex's temperature down. The doctors told me they would have to keep him in, which meant that he would have to spend Christmas day in hospital."
"I called my partner Funda and told her that we wouldn't be home that night. This would be upsetting at any time but especially on Christmas Eve. Alex's brother and sister refused to open their Christmas presents. Through their tears, they said Christmas could wait until their little brother was home."
Last year, the Macmillan Carol Concert raised over £44,000 for people living with cancer. That's enough to fund a Macmillan Nurse for around eight months, helping people living with cancer and their families receive essential medical, practical and emotional support.
Alex was treated by a Macmillan Nurse, Wendy, who George describes as: "The glue that held us all together through this." Macmillan relies on fundraising events such as the Carol Concert to continue their vital work for people like Alex and his family. To buy a ticket and help support people living with cancer go to the Macmillan website.
This year, the Macmillan Carol Concert will be hosted by Victoria Derbyshire, and will feature celebrity readings from Strictly Come Dancing's Angela Rippon, plus more readers to be announced soon. There will be music performances from soprano singer, Dame Sarah Connolly and the Northern Lights Symphony Orchestra. Tickets are priced from £15 and are available to purchase here.
Alex is now 16 years old and has made an excellent recovery. He is in college and hoping to go to university or start an apprenticeship. His dad George said: "I hope Alex's story gives others some idea of how much Wendy, our Macmillan Nurse, has meant to our family over the years. I would hate to think of any family out there having to deal with cancer without the support of a Macmillan nurse."
All ticket sales from the Macmillan Carol Concert will go to fund Macmillan's vital work for people living with cancer. Buy your tickets here.
If you or someone you know is struggling with a cancer diagnosis, visit the Macmillan website, or call 0808 808 00 00.