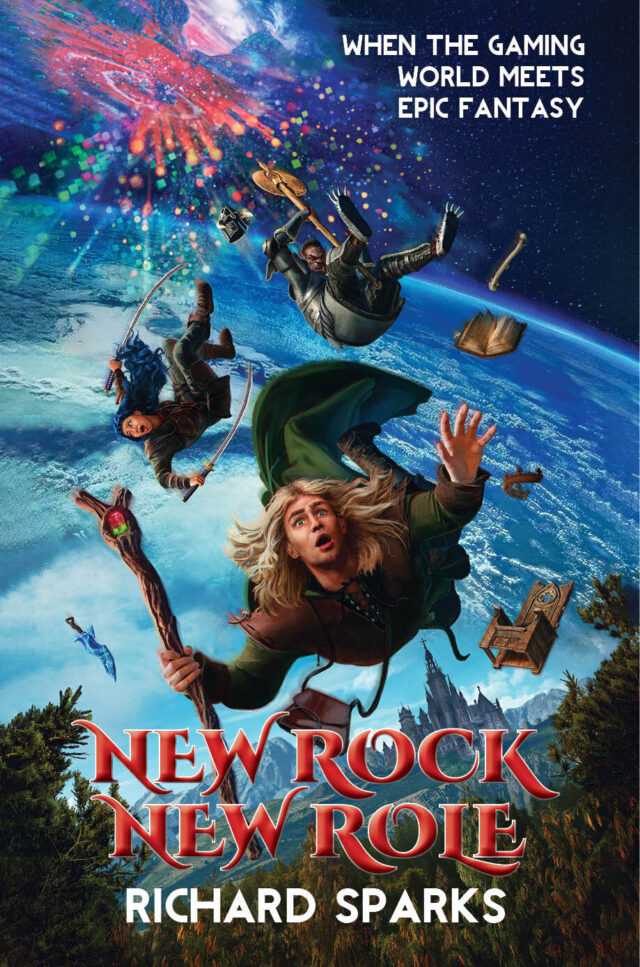 Richard Sparks, the celebrated British scriptwriter and noted US opera librettist and director will be releasing his debut fantasy comic novel on 12th December 2023
Richard is, these days, better known for his work in the US with Los Angeles Opera with whom he has had several high profile works commissioned and also with the Los Angeles County Museum of Art, where he directed Stravinsky's The Soldier's Tale, starring Jack Black as the Soldier.
But comedy has always been in his blood – In 1978 he wrote the Schoolmaster Sketch and gave it to Rowan Atkinson, which Atkinson went on to very famously perform in the original Secret Policeman's Ball. This in turn lead to Richard working as a writer on BBC2's groundbreaking 'Not the Nine O'Clock News' followed by creative work on an array of UK TV shows throughout the 80s.
Now he returns to his comedy roots with 'New Rock New Role' an epic fantasy comedy which tells the story of retired former teacher, Joss Palmer, who, with little in the way of family or friends around him, discovers the world of online gaming in his later years.
The plot tells the story of how Joss, retired and widowed and aching to fill the vast quantities of time on his hands, finds himself developing an unexpected knack for MMORPGs (Massively Multi-Player Online Role-Playing Games). As his gaming skills improve and his online community connections deepen, Joss finds new life in his avatar alter-ego 'Daxx', a heroic, young battlemage.
Eventually, much to his own surprise Joss finds that in his 60s, he has become a hardcore gamer, glued inside his headset day-in and day-out, where life is far better, and much more exciting. He and his two teammates (Grell, the battle axe-wielding Orc avatar of an Australian guy, and Qrysta, the dual-wielding, sword-dancing avatar of an Asian American girl) get so good that they begin to play professionally, entering and winning competitions. As the book opens, they are in the final bout of the World Championship of Sword and Sorcery, which they win… and then something very weird indeed happens.
Joss finds himself all alone, in the middle of a wilderness of trees and hills and mountains, in a world he's never seen before. For real. But there is no sign of Qrysta or Grell.
And he's no longer Joss. And so, Daxx – for Daxx he has become – starts out on a new quest far more challenging than any he has faced before: to find out where he is, and what the hell has happened, and why.
His first task, though, is to survive. And all he has for gear is a crappy, noob-level sword and buckler. And then he hears wolves howling, and heading his way.
Full of humour, wit and wry observations, in New Rock New Role Richard has created a
captivating comic adventure story and a masterful realm, where the gaming world comes to life in an epic fantasy that will appeal to readers of all generations.
Like Joss, Richard is an avid gamer, and it is something he too came to in his retirement years (although Richard has never wanted to retire!).
The rise of older generation online gaming
In his own gaming, and his character Joss, Richard is far from alone, indeed, the industry experienced a very interesting change in recent years.
In its latest (2022) report, Global Web Index reported that (partly due to the pandemic) in the past three years, the number of gamers aged between 55 and 64 has increased by a staggering 32%.
Other key data points GWI shared include that 86% of internet users play games, and 24% of grandparents and parents see playing games together as family time.
According to another recent study on senior gaming, by AARP (American Association of Retired Persons), 44% of Americans age 50+ enjoy video games at least once a month. That's nearly 51 million gamers and counting who are benefiting from the digital age and forming new relationships online to stave off social isolation.
If we extrapolate those AARP stats, and assume similar stats in the UK, that's over 10 million over-50 adult gamers in the UK
And forums such as The Old Timers Guild are going strong stating "We are a group of "older, mature" gamers who enjoy the journey and who are not in a rush to get to the "end game".
Fantasy Fiction generates approx. $590.2million in the USA, growing by 45.3% in 2021 compared to 2020, which was the largest increase among all genres aside from graphic novels.
Three billion people worldwide play video games, with an industry worth almost $160 billion worldwide. The Role Playing Games market worldwide is projected to grow by 8.37% from 2022-2027 resulting in a market value of $98.72 billion.
Richard has written a screenplay of New Rock New Role for the UK's Berkeley Media Group, which acquired the film rights. The book is published by Caezik SF & Fantasy on December 12th 2023 in paperback, all ebook formats, and as an audiobook read by the author.