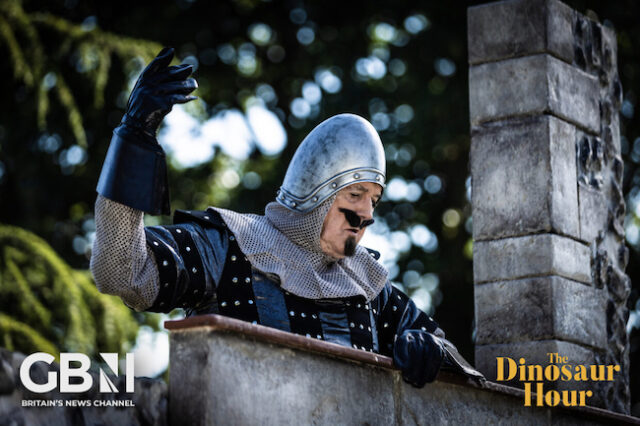 COMEDY legend John Cleese has recreated a classic scene from cult classic Monty Python and the Holy Grail in his new GB News series The Dinosaur Hour.
Cleese reprises the role of the French Taunter, the main antagonist of the 1975 cult classic.
The Taunter famously mocked King Arthur and his knights when they stopped at a castle controlled by the French forces.
He blows raspberries at the group when they ask for shelter for the night and hurls insults at them.
In The Dinosaur Hour, which starts on GB News on Sunday at 9pm, the character is brought back to life by Cleese as he asks to be let into a castle which is playing host to his new series.
It was filmed on location at Hedingham Castle in Essex, and Cleese has described the set as "a slightly lunatic gentlemen's club", complete with roaming cats, in which his guests could relax for cosy but sometimes challenging discussions about some of society's thorniest issues.
"It's a lovely atmosphere because humans are much happier when they're working in smaller groups – it's more interesting and intimate," he said.
Cleese says the series came about after GB News made him "the most extraordinary offer in the history of television".
Speaking earlier this month about the new series, he said: "I've had no interference of any kind and it has been joyful," he said. "Can you imagine the BBC doing that? It would be subject to committee A and then you'd go to committee B."
The Dinosaur Hour series features him in conversation with friends and "the people who interest me most" as they tackle a range of issues from Creativity, The Press, Religion, Woke, and Friendship.
Celebrity guests include Stephen Fry, Rob Schneider, Lionel Shriver, Sir Tim Rice, Sir Trevor McDonald, and others.
The series Executive Producer is author, comedian, and GB News presenter Andrew Doyle, who also produces the channel's nightly newspaper review show Headliners, hosted entirely by comedians. John said he had "never worked with a nicer team."