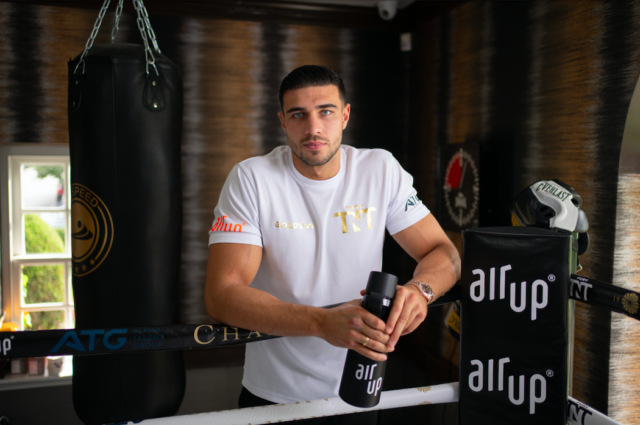 Hydration innovators, air up®, has announced its official partnership with Britain's rising boxer, Tommy Fury, ahead of his much-anticipated match against KSI this 14 October. Being the world's first in drinks technology, air up® is dedicated to innovating the practice of drinking through retronasal smell, providing a healthier way to stay hydrated. The smart water bottle uses scented pods to flavour water with an array of different flavours from Kola to Lime to Mango-Passionfruit – all entirely additive, calorie and sugar-free.
Ahead of his fight, Tommy Fury discusses the importance of hydration and his partnership with air up®:
"Hydration is such an integral part of camp and for any preparation for a fight and drinking normal water in such big volumes can sometimes be quite challenging, so by using air up it makes it that much more enjoyable and easier to get the litres in, when it's tasting like my favourite flavours.
"It's definitely helped me get more water in at ease, I have to drink around 5 litres a day, so it helps when I like the flavour of the water and it's more enjoyable. Outside the ring it helps as well, it's something fun, easy to use and the large bottles helps me keep track of how much I'm drinking each day! It's definitely something I'll continue using outside of camp, post-fight – even when I'm craving something sweet, having one of the sweeter flavours on there can help with that craving.
"During my workouts, I'm sweating a lot and I'm burning a lot of calories – so it's important for me to stay hydrated to make sure I stay on top of my game and I'm putting that water back into my body to help me get through the sessions and also to aid with the recovery process. I'm training twice a day 5/6 times a week at the moment, so making sure I'm staying hydrated is massively important."