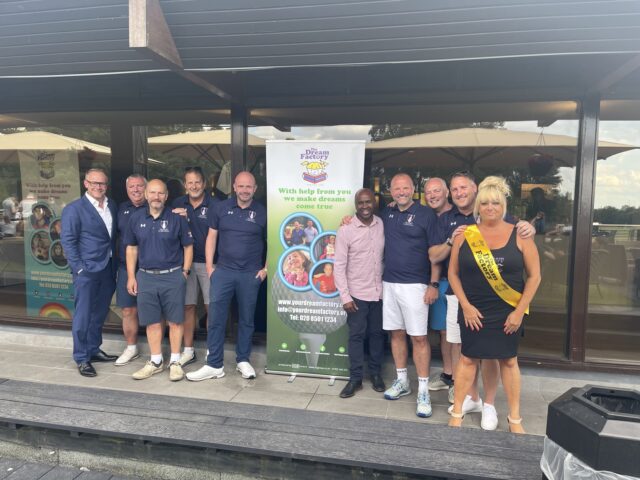 Essex- based Charity The Dream Factory, grants dreams to children and young adults between the age of 3 to 25 years, who suffer from life-threatening, life-limiting conditions or have severe disabilities. Like most charities, The Dream Factory are finding it harder and harder to raise much needed funds to grant more dreams and are so grateful for the continued support of companies like Moss Electrical Co. Ltd based in Dartford, Constructive Space based in East London, Lewis Mechanical and Electrical based in Maidstone and The Pink Tie Club, and others who have supported The Dream Factory this year. One of the ways that these Companies support us is by kindly making us their Charity of the Year at their Company Golf Days – a great day for the golfers and by raising money, it means The Dream Factory can grant even more wishes.
The Dream Factory were incredibly honoured to have been selected from over 70 charities as the Constructive Space Charity of the Year. Constructive Space narrowed down their Charity of the Year applications to a shortlist of sixteen charities, which was matched closely to their selection criteria. It then came down to a company-wide vote, and The Dream Factory took a conclusive victory. The Dream Team were thrilled when we received the news and have enjoyed working with Rob and Nick from Constructive Space. The Constructive Space Charity Golf Day was held on Tuesday 27 June 2023 at the Coombe Hill Golf Club, Kingston Upon Thames – it was amazing, and very well organised. The Dream Team had a wonderful day with all the Golfers, received the best hospitality throughout and the day raised lots of money for us to grant more dreams.                                                                                            
Laser Mechanical & Electrical has supported The Dream Factory for a few years now, and we are incredibly grateful for their ongoing support. They held their Charity Golf Day on Saturday 1 July 2023 at The Weald of Kent Golf Club, Kent.
Lewis Snelgrove, Director of Laser Mechanical & Electrical said:
"It was a great opportunity to get together, but most importantly we are incredibly proud to work alongside The Dream Factory, helping them grant so many dreams for all kids with an incredible personal touch."                                                                                                                                                           
The Pink Tie Club is formed of Companies involved in the construction industry, and their mission is quite simply "to support each other and try to help those who are less fortunate". This year's chairman John O'Leary chose The Dream Factory as their Charity of The Year. Their Golf Day held on Thursday 29 June 2023 at Foxhills Golf Cub, Surrey, was a remarkably successful, a great turn out with some amazing companies showing their support. The Dream Team would like to thank everyone involved for your fabulous hospitality during the event.
Moss Electrical Co have been supporting The Dream Factory for many years and we have been honoured to be selected for their annual Charity Golf Day for 4 years running. Their Charity Golf Day took place on Friday 14 July 2023 at The London Club. It was another momentous day, full of pride and gratitude. Your generosity and continued support will allow us to continue granting dreams. Thank you to Moss Electrical for your wonderful hospitality throughout the event.
Avril Mills BEM, Honorary Freeman of The Borough of Redbridge, Founder & Trustee of The Dream Factory Children's Charity said,
"To be selected as a Charity of the Year, is so wonderful. The amounts raised will allow us to continue granting dreams and creating everlasting memories. The kindness and generosity of everyone who supported us at these amazing golf days, is very much appreciated and will make such a difference to many children and their families.
We receive Dream Requests weekly – just to give you an idea, we are currently working on 34 dreams with 33 on our waiting list, with dreams costing anything from £700 – £3000.00. We have already granted over 630 dreams, which is amazing, and we are extremely proud of this figure.
Please consider supporting The Dream Factory for your next Charity Golf Day or make us your 2024 Charity of The Year. With help from you we can make more dreams come true."