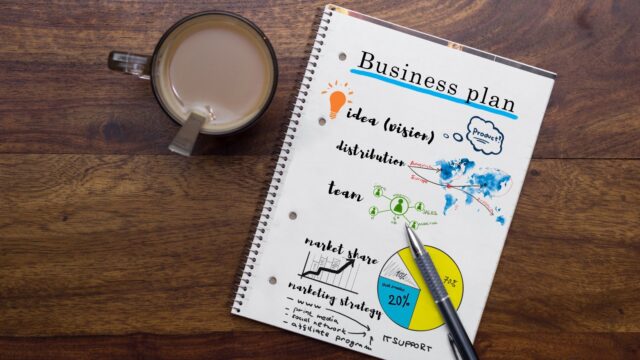 13 industry experts have revealed their top tips on getting your business through a recession.
The news comes amid the Bank of England warning that the UK may be hit by a recession later this year.
Don't stop investing in your marketing
While things might be tight in a recession don't make the mistake of letting your marketing slide says Jordan James, Head of Key Holders at Unlockd Marketing:
"Many companies made the mistake of letting marketing slide over a period of recession, but this is a big mistake. Invest any extra cash you make into your marketing budget instead of letting it languish.
So much of your marketing should be going towards brand awareness and woo-ing your market, charming them all the way into your bank account – this is especially important during a recession so stick with it. People will still spend during a recession so make sure your product stands out."
Streamline what you can offer and focus on what you do best
While adding to the products or services you offer as a business can help with your growth, Jo Ayoubi CEO of Track Surveys recommends changing your approach as a recession looms – instead of diversifying, focus your time and money on what you do best:
"Most small businesses start with one great thing and over time we add more services, products and add-ons and we grow. However, with a recession looming, I recommend that you focus on what you're really good at and what your customers value instead.
See if you can make this one service or product better, faster or cheaper – this will be a better investment of your time and money as opposed to something that may prove fruitless."
Think like Darwin and start evolving your business before it's too late
Don't hesitate and start taking the steps to recession-proof your business ASAP advises Dan Trotter co-founder of PPC Geeks.
"Don't wait until you're already in hot water, the time to recession-proof your brand is now. Apply Darwinian thinking and start to create a plan by working out what could happen and devising strategies for all possible scenarios.
Get ahead of any potential problems and be willing to change. How can your brand evolve/pivot if it needs to? How can you use the recession to your advantage? Some of the greatest brands have been built in recessions such as IBM, Disney, Microsoft and Google so be agile and use as many data points as you can to make smart decisions for your business – always evaluate and don't be scared to roll back if it's the right thing to do.
Don't be afraid to work with someone new
Neil Sheth founder of Writefully advises sharing your expertise and diversifying your clients and customers and/or the type of work you do for your existing clients and customers i.e. if you offer copywriting services for the fashion sector, why not dig your toe into a similar industry such as health and beauty, or home?
"Diversify your product by working with different customer segments or by helping your original clients or customers with more of your products or services. At Writefully we actually did both and, while it was complex at the start, long-term it's given us a good foundation to grow on."
Cut costs by removing unnecessary subscriptions or accounts
An easy way to cut costs for your business during a recession is by scoping out any unneeded services or subscriptions according to Alex Robinson from Novus Digital:
"We've made a big deal of keeping on top of unnecessary subscriptions. We were paying £100s every month on software we were using, for email accounts that were no longer in service and for perks that the team weren't using. By spending a little bit of time keeping up with admin we've managed to reduce outgoings, allowing us to add more to the war chest each month!"
Re-contract with software suppliers now on annual terms
Michael Buckworth of Buckworths advises taking advantage of deals you get with annual terms for your software or other subscriptions – the key is to do it now before prices increase:
"Any start-ups with rolling monthly terms are almost certainly paying more than they need to as annual terms are usually cheaper. In addition, many software providers will soon be increasing prices. If you can afford it, renew your software contracts now on annual terms to avoid any increases and get any annual term discount."
Get online and expand your customer base
Adam Foster, founder of The Fibro Guy recommends moving your business online to take advantage of cheaper operating costs, as well as the ease of expanding your customer base:
"It's no secret that brick-and-mortar businesses get hit the hardest during recessions, so by being able to adapt and move into the online space, your potential customer base expands, giving you a large target audience and greater sales – this also has the benefit of reducing your operating costs!"
Be confident about what you can offer
For life and business coach Phil Drinkwater showing confidence in your business even amidst the recession can help keep customers and clients coming back:
"Recessions cause people to lose confidence in their ability to generate income, so business owners tend to be more cautious with their spending. They will be willing to spend, but they want to know it was worth the money, meaning businesses that positively demonstrate their return on investment will more likely be chosen over those that someone isn't confident about the value of.
Spending time to evaluate and be clear about how much someone can expect to make when buying from you will significantly improve the chance of a sale against your competitors who may not choose to do this."
Don't chase a fast buck, enrich your customers' lives instead
Natalie Viglione from Disrupt Now recommends not chasing after money, but focusing on enriching the lives of your customers instead, creating value for your business outside of just financial matters:
"Create affordable opportunities online, such as building courses, creating a community, or leading online training – anything that genuinely adds value to people's lives, not just as a way to make a fast buck. By serving others you add long-lasting value to your business, securing your ability to gain revenue.
Use the right leads
Ensure you're using the right leads to keep your business thriving during a recession, recommends Isobel Burns from Digital Marketing Engine:
"Recession-proofing your business requires high-quality leads at a low cost and sustainable volume. I recommend using Facebook ads – these are still the most cost-effective way to promote your goods or services and keep business flowing."
Make your business spending flexible
Ian Rees, CEO of Our Health Hub, recommends looking at your spending and seeing if you can make any of these outgoings flexible in case of emergencies:
"Keep your business expenditure flexible – during a recession cash becomes king. Look at all your existing overheads and any new commitments – can you make them flexible so that you can discontinue them at short notice? That way, if your business does take a hit, you can quickly scale back any unproductive expenditure and not be stuck with expenses you can't afford."
Audit, audit, audit!
If you haven't already, Phillip Bacon, of Bacon Marketing, recommends doing an audit ASAP and getting a clear picture of your outgoings ahead of the recession:
"My tip is to audit – have you actually looked at how much is being spent on a day-to-day or monthly basis? Review what is being spent and where, and see if there is a better way of spending it i.e. is there a program that can give you more things in one place?
In the past we have found inefficiencies in marketing departments that added up to £100's per month, if not more! These savings all add up when you look across a business and could be the difference between an extra month of trading or closure when we hit the recession."
Have a contingency plan
Copy Adam Purser, Director of Classic Sailing, and set up a contingency plan that details how to downsize your business if you take a hit from this recession:
"I've always had a contingency plan in place as my business is very prone to economic boom and bust – it's actually very quick to flesh out an alternative business plan, especially if you're willing to be flexible:
Look at leases and their early termination clauses.
Check the costs of laying staff off and redundancy entitlements.
Have a backup smaller premise in mind or work from home.
Look at the software you use, there are many new, better and cheaper versions available. I saved $3000 just by changing my CRM to NetHunt."
​