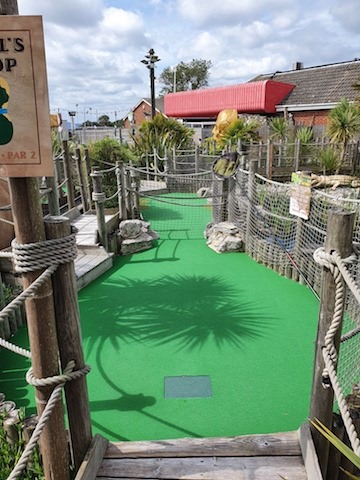 A summer of mini-golf love is heading to Great Yarmouth this year with the launch of a new mini-golf event across nine of the resort's courses.
Launching on 14th May, National Miniature Golf Day, and running until 21st September 2022, The Big Mini Golf Tour offers participants of this ever-popular holiday pastime the chance to be in with a chance of winning a series of prizes, including a family holiday in Great Yarmouth, each time they play a round.
The Big Mini Golf Tour is the brainchild Richard and Emily Gottfried, mini-golf enthusiasts who since 2006 have been travelling across the UK in their quest to play on every course. And, as Great Yarmouth is their favourite location, thanks to the sheer number, variety and quality of its courses – they've teamed up with Visit Great Yarmouth to stage the prize-winning event.
As well as the resort's many Marine Parade and beach front courses like Pirates Cove, other mini-golf locations in the competition line up include Lost World Adventure Golf in Hemsby, Gorleston-on-Sea and Clippesby Hall. The full list can be viewed here
Participants simply need to enter their details via the QR code form available at the entrance to each course. Every course played qualifies as an entry to the prize draw, with the winner chosen at random at the end of the summer. While entry to the competition is free, the cost of playing each course varies, starting at £4 per person at Clippesby Hall and Lost World Adventure Golf. For more information visit: https://bigminigolftour.blogspot.com
Asa Morrison, Chief Executive ,Visit Great Yarmouth, comments: "Mini-golf is a part of many of our visitor's holidays and days out. The Big Mini Golf Tour is a new idea for 2022 to encourage holidaymakers to experience the wide range of crazy and mini-golf courses we have here.
Mini-golf dates to 1867 (the world's first miniature golf course was created at St Andrew's in Scotland specifically for female players as 'full swings were deemed unladylike). And, while Yarmouth can't claim to be the birthplace of the sport, its Marine Parade course, where the current Castaway Island course is, has been entertaining holidaymakers since the 1920's. It's also home to Britain's first indoor minigolf course – The Windmill Adventure Golf, which opened over 20 years ago.
STAY: Richardson's Holiday Park near Hemsby Beach
Just a short stroll from a glorious sandy beach, Richardson's Holiday Park is packed by onsite facilities including The Quarterdeck Restaurant and Posh Plaice fish bar, indoor and outdoor play areas, a heated indoor swimming pool and Trim Trail. There's also a family entertainment centre with bowling and arcade games, go kart hire as well a football and basketball games area.