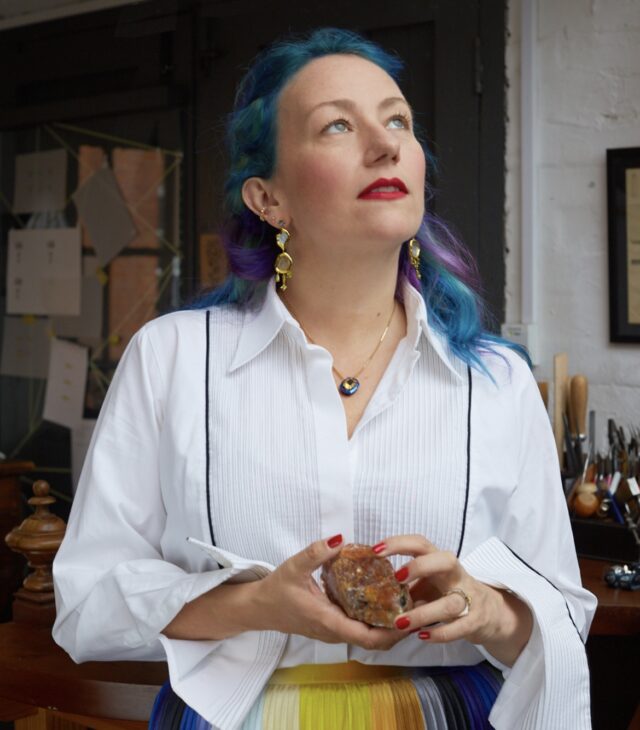 Award-winning jewellery brand, The Rock Hound, will showcase its Fairtrade Gold collections in London's West End as part of a brand new pop-up shopping experience on New Bond Street.
The East London-based brand is taking part in the inaugural Autelier event at 125 New Bond Street – a temporary luxury shopping destination that gives designer brands the opportunity to present their collections in high-profile locations.
The pop-up launches officially with an inaugural event this Thursday 18th November and will run through to 31st Jan 2022, open 11am to 7pm every day. The Rock Hound will have a range of items on display and for sale, ranging from £450 through to £11K, and will sit alongside circa 20 other brands.
The Rock Hound Founder and Designer, Susi Smither FGA GIA JDT, says: "This is a great opportunity to introduce New Bond Street's illustrious and discerning clientele to Fairtrade Gold and our responsibly sourced collections that support miners, lapidarists and charitable initiatives across the world. I am proud to be participating in this ambitious Christmas shopping pop-up, especially now at a time when people are ready to rediscover in-person experiences. I look forward to meeting clients personally and sharing the space with my fellow independent designers and brands."
The recently refurbished 125 New Bond Street boasts an attractive double height façade set into the traditional red brickwork of a London townhouse. It has close links to a range of luxury fashion and jewellery retail businesses, as well as easy access to London's busy West End, which is a popular Christmas destination for locals and tourists alike.
Mahsa Yeganeh, Gold Supply Chain and Programme Manager at the Fairtrade Foundation, explains: "We're excited that in the run up to the festive season shoppers visiting the London's West End will have more opportunities to choose Fairtrade Gold at new pop up Autelier. When you purchase one of the incredible aesthetic designs from The Rock Hound, you are choosing gold with heart, fully traceable and responsibly mined ethical gold that means miners receive a fair deal for their hard work."
The Rock Hound will utilise its space at Autelier to showcase its core collections, including GoldRush, which features pieces decorated with hand-formed 'nuggets' of solid Fairtrade Gold to "form a deeper understanding and connection between mine and market". The brand will also highlight its unisex RockStars offering, similarly formed in Fairtrade Gold, and designed to mimic the form of natural crystals and Smither's own favourite gemstone, Tourmaline.
As a trained gemmologist, Smither is highly regarded for her gemstone-led collections and collaborations with traceable mining locations. The Rock Hound's Molten Muzo collection, for example, combines 18k Fairtrade Gold with tumbled emeralds from Muzo Emerald Colombia. She is one of only 40 global designers to be invited to work with this prestigious emerald supplier. The Autelier pop-up will also set the stage for new pieces featuring Bahia Golden Rutilated Quartz that's responsibly sourced from Brazil.
The Rock Hound is also a supporter of community projects that seek to recognise and support the work of traditional lapidarists and artisans across the world. The Turquoise Mountain collection uses native gold and spinel crystals from Mogok Valley, Myanmar, and combines the skilled craftsmanship of the Turquoise Mountain team in Yangon with The Rock Hound's signature design aesthetic.
Further ranges on display include the colourful Chromanteq collection with coated precious metals in an array of vibrant hues and set with peridot, spessartite and helidor.
Smither adds: "Since launching The Rock Hound in 2015, I have participated in numerous showrooms and exhibitions that present my jewellery to new and diverse audiences. These events have allowed me to share my experiences in Sri Lanka and Tanzania with visitors and personally divulge some behind the scenes insights about the journey of gemstones and gold from mine to market. Autelier is the perfect festive opportunity to continue this tradition and share the stories of Fairtrade Gold and Fair Luxury, which are causes close to my heart.
The Rock Hound will be available at Autelier until the end of January 2022. A percentage of the proceeds from every sale will be donated to Crystal Clear Collective (CIC) that supports artisanal small-scale miners as part of The Rock Hound's Fair Luxury Pledge.