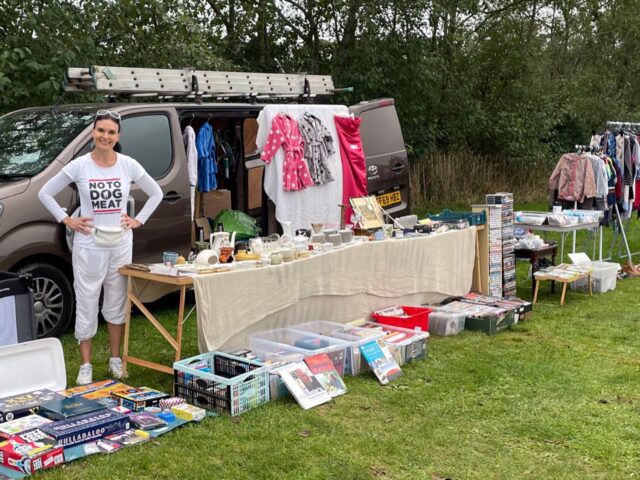 A devoted dog lover has staged a summer of fundraising for a charity that is close to her heart.
Gretchen Wild, 44 who lives in Harlow, has held a whopping 14 car boot stalls over the summer to raise money for the NoToDogMeat charity.
Gretchen and her partner Steve Rickwood, 47 got up at 4am every Saturday and Sunday morning during the summer, to fill their van to the brim with donated items.
Many of the items were donated by friends at dental nurse Gretchen's work, at The Bright Dental Care in Epping.
The car boot sales were held all around Braintree and Chelmsford, and the charity push has raised £3,000 towards a brand new NoToDogMeat shelter in Cambodia.
Gretchen said: "This is a charity very close to my heart. I have been vegetarian since I was 14 and have always had rescue cats and dogs as pets.
"In 2020 I ran the London Marathon virtually for NoToDogMeat and raised £2,000, I got the bug after that and started thinking about different ways to raise money. And that's when we thought of the idea for the summer of car boot sales.
"The car boot sales have been really fun, and everyone has been interested in the case. At one of them a couple even let us borrow their spaniel Jasper who was our mascot for the day!"
After asking friends and family for donations Gretchen and Steve found that their house was quite overrun with clothes and bric a brac.
Before each sale they would stay up unloading Jason's work van, and reloading it from floor to ceiling with things to sell.
"I even sat in the front of the van with things on my knee" Gretchen added.
Now that car boot season is over Gretchen is selling the surplus on Ebay, and has also made donations to local animal charity shops.
Julia de Cadenet, CEO of the NoToDogMeat charity, said: "Thank you so much Gretchen for this amazing donation of £3,000 which will go towards building our brand new Cambodia rescue centre.
"It is people like Gretchen that help to keep NoToDogMeat going, and by going out into their communities proudly sporting our t-shirts they are raising awareness of this important issue too.
"As a grassroots charity every penny really does count, and donors can see their money going directly to help with our projects."