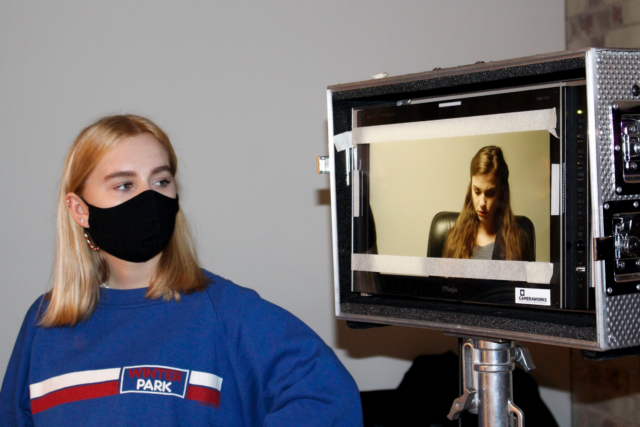 Young Londoner Ella Greenwood is using her company Broken Flames Productions to change the representation of mental health in the media.
At the age of only 19, Ella is the director of a vastly expanding company, and has worked with the likes of a BAFTA nominee, a Netflix star and Executives with decades of experience. After having struggled with her mental health from a young age, she decided to focus on building slate of mental health-based projects.
The first of these was Faulty Roots, a short film about teenage depression. Nominated for Best Script by Film The House which is run by Parliament and sponsored by Disney, Warner Bros, Lionsgate & more, it has been praised for promoting awareness of teenage mental health, with UK Film Review saying that in the film "these massive issues are addressed in the most quiet and compassionate way possible… with normality and understanding". Film Stories Magazine announced that it was being developed into a feature film, with Deadline sharing that Gavin & Stacey's (BBC) Melanie Walters and Sanditon's (ITV/PBS) Kayleigh-Paige Rees were the first to join the film. For the feature, Broken Flames has partnered with TerraMedia, a company that has an excellent understanding of what it takes for a film to be a success and a track record of nurturing films with real social impact.
Wanting to reach all types of audiences with her work, next came the animated short Dreary Days. It follows a girl who is very different to her parents, and the aim of the film is to reach a young audience in a simple yet engaging way. It will next screen at Monstra Film Festival, one of the biggest animation festivals in Europe.
Having struggled with self-harm as a young teen, this is the focus of Ella's third film Self-Charm. It stars recent BAFTA Leading Actress Nominee Bukky Bakray.
Ella just finished shooting Smudged Smile, which is the first in a mental health anthology series. It stars Mia Mckenna-Bruce (Get Even), Priya Blackburn (Bohemian Rhapsody), Elliot Levey (Quiz) and Anna Acton (Brassic).
Ella started campaigning for better representation of mental health in the media, which led to her being awarded Positive Female Role Model Of The Year at the Darkus Magazine Awards. She's also the youngest ever ambassador for leading teen mental health charity stem4, alongside the likes of World Cup rugby player Hallam Amos and BAFTA-winning actress Georgina Campbell.
Up next for her is Why Wouldn't I Be?, the first film from Broken Flames that will focus on a male lead character.