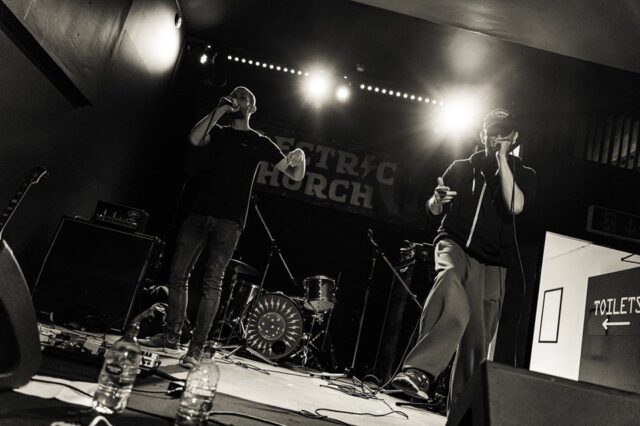 Father and son rap duo FMA + 12 Gage have released their Give us a Break! Anti Bullying Campaign rap video and it's now exceeded 3,000 views on YouTube.
You can watch the video here: https://youtu.be/fUxJcot_li4
FMA + 12 Gage are a father and son rap duo who use their music to combat their mental health issues. The pair are made up of Matthew Bennett who is now 40 years old and Callum Gage Bennett who is 21. Matthew was diagnosed with Asperger's Syndrome at the age of 36 and Callum was diagnosed with Dyslexia at 16. They have been performing together for the past six years .
"Being autistic is a very lonely experience – you see, hear and feel things differently to others, which makes it hard to connect with people. Autism's Got Talent is a place where that loneliness did not exist. It was such a comfortable, understanding and welcoming environment. We met so many amazing and talented people and had far more fun than we ever expected to. Anna has managed to create something that both shows the talents of those on the spectrum as well as showing those same people that they're not alone in this world."
In 2019, Anna Kennedy approached the pair with an idea to create a song for the 'Give Us A Break' anti bullying campaign. Matthew and Callum both jumped at the chance of being able to help other people through using their music.
After two months of hard work, trial and error, frustration and many scrapped ideas, Spectrum was finally born. Callum drew upon his experiences of dealing with an abusive, bullying step parent when he was younger and Matthew looked to his early life and struggles with addiction and isolation as sources of inspiration. Both vocalists stepped out of their comfort zone to deliver a softer more emotional song than the ones that they normally create. With bullying continuing to be a problem among young people it is important for everyone to have an understanding of what kind of effects it can have on the younger generation. Luckily there are sites similar to BroadbandSearch (click here) that can shine a light on the different statistics that surround the issue and with performances such as this, it can open our eyes to what is happening around us.
The song is built around a message of hope, and in turn, FMA + 12 Gage hope that it connects with those who are struggling like they once were. No matter the difficulties the pair went through to create the song, two months of hard work pales in comparison to letting someone know that they are not alone.
FMA + 12 Gage would like to thank both Anna Kennedy and the 'Give Us A Break' campaign for giving them this opportunity.
The Give Us A Break campaign with founder and Autism Ambassador Anna Kennedy OBE calls on all schools, colleges, work places and social events to join the #GUAB campaign and help to make a real change to the lives of all people effected, including people with Autism and other neurological and physical disabilities, by helping people to have the courage to speak up and understand that it is NOT OK to bully in any form.
UK Autism Charity Anna Kennedy Online is dedicated to raising Autism awareness, acceptance, training and understanding to both schools, colleges and within the community to help create a better environment so that all our children and adults can thrive and make their mark.in the world just like everyone else.
Follow FMA + 12 Gage on all social media @FMA12Gage