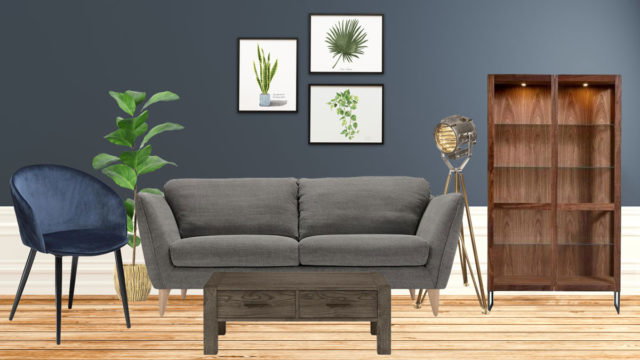 We know that British couples have an average of 2.4 children, but did you know there's an average UK living room too? Data from premier furniture retailer, Taskers.com has revealed a photo-fit of the nation's most likely living room.
The photo-fit was created using sales and search data over the last 12 months from Taskers.com, revealing that we're most likely to have a grey two-seater sofa, a colourful accent chair, an industrial style coffee table and vintage style floor lamps.
Scoring three or more of the most popular furniture must-haves puts you top of the trends in the interior design stakes – so keep note of how you fare.
More than a quarter of Brits (28%) opted for a grey sofa in the last 12 months, making the neutral tone the 2019 colour of choice, while the once commonplace black leather sofa was the least popular style of the last year (3%) – seeing the biggest decline in popularity.
However, the popular and subtle Scandi sofa designs were offset with pops of colour, with midnight blue (10%) and emerald green (8%) making the top five sofa and chair colour choices.
Single accent chairs in bright colours have seen a 30% surge in sales, making them one of this year's must have home items.
Despite being a desirable luxury, corner group sofas made up just 9% of the leading furniture retailers sales, with furniture-buyers more likely to opt for two- and three-seat models.
The industrial and reclaimed furniture style is also here to stay, as the rustic wooden design was the best-selling coffee table type, making up a third of all purchases, followed by white minimal (22%) and contemporary glass (9%) designs.