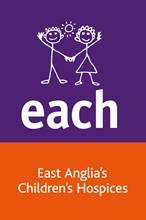 East Anglia's Children's Hospices (EACH) has been recorded as the second-fastest growing retailer in a national survey of 71 charities.
The latest edition of the annual Charity Shops Survey "saw a slight fall in the number of charity shops – the first such drop since 2003", with charities such as Oxfam GB and Age UK reporting a series of closures.
EACH bucked that trend, though, adding seven shops to its retail portfolio in 2017/18.
That rise was reflected in its income growth, with EACH recording the second-largest increase of 21.8%. While those stats might go hand in hand, EACH has also taken care to make sure its shops show a good profit margin and, with 33.2% of its income going straight towards care and support for children, young people and families, it ranks firmly in the top 15 for profitability.
EACH remains ambitious and will be opening its first shop of 2019, in Dovercourt, at 10am on Thursday, 14 March.