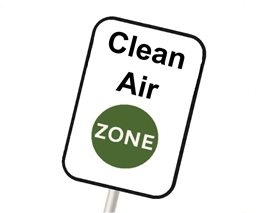 Basildon Council has today (13 March) begun engaging on proposals to introduce a non-charging Clean Air Zone in parts of the borough.
The proposals have been developed in partnership with Essex County Council and Rochford District Council, after the government's National Air Quality Plan identified a number of locations along the A127 in Essex were likely to be exceeding air quality thresholds for Nitrogen Dioxide.
Further tests found that a section of the A127 between east and west Basildon, and parts of the business area to the south of it, has poor air quality that breaks national safe limits. As 40,000 deaths a year in the UK are attributable to outdoor air pollution, it is vital we tackle this issue, which is why we are proposing to introduce a non-charging Clean Air Zone in the area. This would consist of two key features:
A 50mph speed limit along the A127 from Fortune of War to Pound Lane junction. Reducing speeds from 70mph to 50mph can cut harmful nitrogen dioxide emissions by 20 per cent, as well as improving road safety and journey time reliability.
Businesses within the zone will be offered advice and support on upgrading to cleaner vehicles and installing electric charging points and cycle parking. We also want to help them encourage staff to cycle, walk or use public transport more in their daily commutes.
These measures will run alongside improvements to cycle routes, the installation of electronic charging points in Basildon and Rochford, and the planned introduction of a cleaner local bus fleet.
Over the coming months, we will be talking to local businesses and residents about the proposals and their implementation. A consultation, seeking peoples' views on the non-charging Clean Air Zone, will take place later this year, and a free advice programme for businesses based in the area will be rolled out from this spring.
Find out more about what we are doing to improve air quality at www.essex.gov.uk/airquality